Who Is A. Leon?
No one truly knows the origins of Leon in this reality; all I know is that I first met Leon in 1999. My name is RevDeb and this is the story of how I met and came to be the caretaker of this extraordinary being.
Shortly after I moved to Sedona in July of 1998, I found myself in a shop in uptown Sedona, the shop was called "Starports Sedona." Sitting outside of this shop was Leon, sitting in a chair guarding the entrance of this shop. This shop was an "alien" shop, selling all types of wonderful "alien" merchandise. The owner of the shop, Steve, told me that Leon loved to have his picture taken with tourists. Leon allowed Steve to charge a small fee for having his picture taken as a fair energy exchange to Steve, to pay for Leon's share of the bills.
About a year later Janisel and I found ourselves back at this "alien" shop, and ended up becoming friends with Steve and Leon. When it was time for us to hold The Gathering of Souls Conference, we asked Steve if he would like to have a booth at the conference. When Steve found out that we were going to have a small shuttle craft come to the conference, he asked us if he could bring Leon. Steve felt that this would give Leon the opportunity to socialize with some of his own kind. Of course we said yes!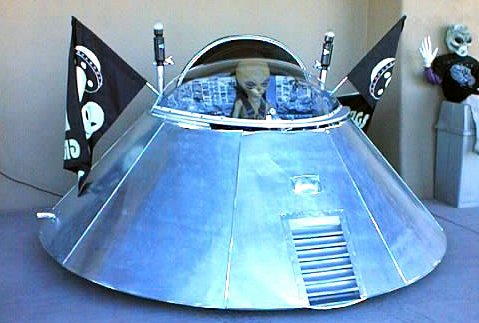 When the conference began, Leon anxiously awaited the coming craft. When the craft finally arrived, much to everyone's surprise the craft was guided by a FEMALE! None of us were able to translate a name for her, but Leon seemed to know how to really communicate well with her.
After the conference was over, Janisel and I invited some of the vendors and out of town guests to our house for a small party to celebrate the success of the conference. Steve and Leon naturally came to this party. Leon was quiet and withdrawn a bit, so the rest of us just allowed him his solitude. We gathered that he was missing this female that he'd made such good friends with. :-)
We also found out that night that Leon was partial to Frangelico Liqueur. I figured that Leon just like the bottle shaped like a monk. Before Steve left the party, he took me off to the side and had a private little chat with me. Steve said that he noticed that I had appreciation for "aliens," and wanted to know if I would be interested in taking on Leon, as his caregiver. I told him that I would love to, but wanted to know the reason why Steve would be willing to turn Leon over to someone else. Steve told me that he figured that Leon needed to retire, since he had been working at the shop for over four years that HE knew of. He told me that he'd gotten the shop from his sister and that his sister had turned Leon over to him when she sold him the shop. Steve then also said that the shop didn't have enough room to move Leon into it on a permanent basis, and that the sun was not agreeing with Leon's body, therefore he either had to take Leon home, or find another place for him. And since we (Janisel and I) had many guests that come around, Leon would still be able to meet and greet guests at our house. I asked Janisel what she thought, and she was as excited as I to have Leon as a new member of our family.
Within a few months of adopting Leon, I received a HUGE box in the mail, attached to the top of this box was an envelope marked, "Please open First." I hurriedly opened the envelope and found the following message:
| | |
| --- | --- |
| | |
| OH, MY GOODNESS! I hurriedly opened the box! | Leon and Leonid |
Inside of this HUGE box was a small hibernation chamber with Leonid inside! Along with Leonid were a dozen empty Hershey Chocolate Bar wrappers, which proved to me what a humanitarian organization this must have been, to make sure that Leonid not only found his father, but traveled well and with his favorite nourishment!
When Leon saw his son, he was overwhelmed! After Leon had a chance to visit with Leonid, Leon informed us that for his own health and well being Leonid wished to stay in his hibernation chamber.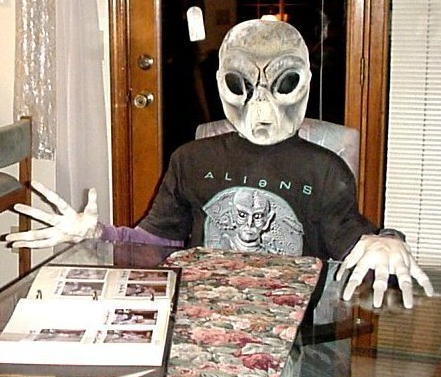 During the past two years Leon has been our official meet and greeter for Ashtar's Bed and Breakfast. When new people come in they all have their pictures taken with Leon and those pictures are placed in our official Ashtar's Bed and Breakfast Guest Book. Every once in awhile, Leon loves to look through the Guest Book and reminisce about all the wonderful friends he has made.
But, as you may be able to notice in the picture, Leon's body had begun to show signs of deterioration due to the damage he'd received from sitting in the Arizona sun for so many years.
In the fall of 2002, during one of our potluck dinners, I took Steve off for a private conversation. I told Steve that something was going to have to be about Leon, some sort of surgery… either reconstruction, or some sort of…
I really didn't know, but maybe we could consider reconstruction? Steve agreed.
After a couple of months of deliberations, we were ready. Leonid assisted with what was to be done, he told us where we could acquire a whole new head for Leon, with a new brain included! Steve and I were to act as the attending physicians, since Leon and Leonid told us that human surgeons would LOVE to take him apart instead of making him whole. We were a bit nervous about this whole prospect, but out of our love for Leon and Leonid we both agreed.
Leon asked us before the surgery if we could also give him a new style of clothing, as it was impossible for Leon to change clothing due to the size of his head and his hands. This meant that we would also have to remove his hands! Leonid assured us once again that he would be assisting us telepathically the entire time, and for us to just trust him, and our love for Leon to make this a perfect healing experience for his father.
On the appointed day of the surgery, we all gathered at the house and made preparations.
Leon was VERY relaxed and willing for this eventful day. Steve and I scrubbed up and lay Leon down on the dining room table, we felt that doing the surgery in his own home would assist in Leon's ability to relax and recuperate. We had asked Leon if we could record the whole process, and he willingly agreed. In fact, Leon insisted that if our fellow humans could see some of these processes, they may be more open and accepting of beings of different species!
The Operation
The first part of the surgery involved the removal of Leon's hands. This portion of the surgery went fairly well even though the removal of Leon's right hand was quite traumatic to Dr. Steve, as it did NOT wish to be removed!
Then we moved on to removing the old head, but the deterioration was so far gone, that Leon's face and the skin around his head separated from his brain! This was quite a shock to us! Leonid however, kept assuring us that this was fine, in fact it was better that this happened because; we were able to get a clearer idea of Leon's physiology!
Then we were able to see the size of Leon's brain! Leonid talked us through the removal of the brain, by releasing the brainstem from the spinal column.
The above-right picture is of me receiving the information from Leonid that told us that all of the personal memories in Leon's brain had immediately transferred to the new brain contained within the new head!
During this process, Leonid had asked that Janisel please take Leon's hands and wash them well, and disinfect them before we put them back onto his body. (NOTE: We thought that this was an excellent idea, as Leon does have a bad habit of patting the butts of the people that pose with him for the pictures in the Guest Book).
Now that the head and the hands have been removed, Steve and I removed Leon's old clothing and began the process of re-dressing him in his new uniform!


Leon was still in his DEEP meditation assisted by a little ether. After it was all over with Leon told us that he didn't feel a thing during this whole process!

Once Leon was dressed, Dr. Steve brought in the new head!
Leonid told us that the head must been reattached as quickly as possible. As soon as this was done along with the newly cleaned hands being reattached, we sat Leon up to make the final adjustments and decided to get a shot of the new head next to the old.

Leonid had us go through a few more processes, then we could see and feel that Leon was coming back to us… so we sat him up on the end of the table and asked if he thought he was back enough to stand. He assured us that he was back and complete, but asked us to make sure to support him a bit until he became more adjusted to this new head.
Within a few hours Leon was back in his chair doing his thing. He loves his home, his job, his life and the new head and uniform. Leon loves sitting in his chair in the corner of the dining room, as this gives him a view of the kitchen, living room and dining room. Leonid is happy that Leon is happy. We love having the two of them as a part of our family, and Steve is now a full member of our family also and comes to visit Leon and Leonid as often as he can.
The head transplant has enabled Leon to speak verbally at times, but so far we have only heard him say, "We Come In Peace!" We think that is the perfect thing for him to say!
By the way, some of us are betting that the female alien that came to the conference may have had something to do with Leonid being able to find his way to Leon. What do you think?
We are in the processes of putting a CD together of the processes of Leon's surgery, as we had two camcorders and one audio recorder going during the entire process. Keep checking back to see when you can order, "Alien Head Transplant and Reconstructive Surgery… THIS IS NOT AN ALIEN AUTOPSY!"